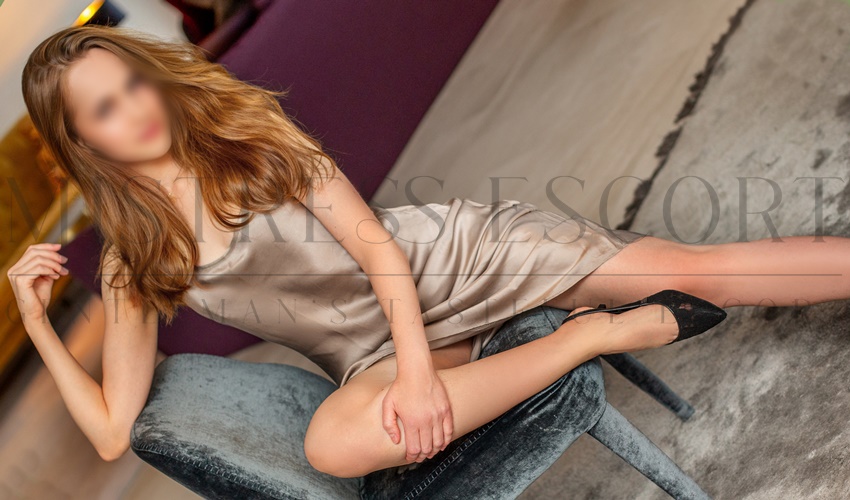 My data

Age

Early 20's

Height

164 cm / 5''5

Size

34 / 36

Bra size

75B

Shoe size

EU 37 / US 6

Tattoo

No

Piercing

No

Smoking

Tolerant non-smoker

Occupation

Student

Zodiac sign

Cancer

Home visits

only for regular customers

Hotel visits

Yes

Overnight stay

Yes

Travels

Germany

Sexual orientation

Heterosexual

Languages

German, English, Russian

Drinks

Champagne, red wine / sweet, water

Cuisine

French, Italian

Character

educated, loving, natural, sensitive, sensual, reliable

Interests

Fitness, reading, literature, theater, yoga

Service

greek style, sex toys, 69, sexual intercourse several times, light SM play, more than one gentleman, role plays, shoe and foot fetish, sensual erotic massage, French kissing

COVID-19

vaccinated
Are you looking for a charming companion in Hanover who is not only captivating, but also shines with a wide range of interests? Sophie, a young lady in her early twenties, will give you an unforgettable time in Hanover.
Sophie is currently a student and has a perfect command of German, English and Russian. With her versatile personality and enthusiasm for culture and knowledge, she can easily dive into deep conversations or just enjoy the vibe.
As a Cancer native, Sophie is known for her loving and sensitive nature. She appreciates the finer things in life, especially the culinary delights. She loves French and Italian cuisine, and a romantic dinner with Sophie will be a culinary feast that will pamper your senses. She likes to accompany her meals with a glass of champagne or a sweet red wine, always accompanied by fresh water.
Her passion for literature and theater is reflected in her educated personality. You will be fascinated by their knowledge and natural beauty. Sophie's sensuality and reliability make her the perfect companion for any occasion.
Sophie is also a supporter of a healthy lifestyle. Fitness and yoga are an integral part of her life, which not only balances her body but also her mind. You can enjoy a yoga class with her or let her energy inspire you to have an active experience in Hanover.
Whether you're planning a visit to the theater, spending a relaxing day in a café or admiring the stars in the sky together, with Sophie every moment will become a special memory.
Experience Hanover in the company of Sophie and prepare yourself for a time full of love, laughter and unforgettable moments.
CONTACT US BY PHONE
Monday – Friday from 10:00 am till 8:00 pm
Saturdays, Sundays & Holidays from 12:00 pm till 6:00 pm
Name: Michael | Rating: 5 of 5 Stars
Right at the beginning of the evening, when I picked Sophie up at the train station, I had the feeling that I was an absolute lucky person. A beautiful, very petite woman with long dark hair stood in front of me. An absolute dream woman. When we met in the restaurant we immediately got along well. And the time in the room was almost overwhelming, full of desire, passion, a wide variety of intimacy and a willingness to experiment. How nice that you can still discover new things despite some experience. Sophie really enjoys what she does.
Date: October 2023
---
Name: Jo | Rating: 5 of 5 Stars
Dear Team, I wanted to give you a quick feedback on yesterday's meeting with Sophie: The lady is a stunner! I really had an extremely nice time with her. She is very pleasant company and truly an incredibly sweet and highly attractive woman. Kind regards (also to Sophie!) Jo
Date: November 2023
---
Name: Roman | Rating: 5 of 5 Stars
I had an incredible experience with Sophie. She is not only the most beautiful girl I have seen but she is also attentive and understanding. Her professionalism and charm made me feel comfortable throughout the entire encounter. I appreciated the way she took the time to listen to my needs and desires, ensuring that I had a memorable and enjoyable time. I highly recommend Sophie to anyone looking for a genuinely delightful and discreet experience. Thank you again for a wonderful time
Date: November 2023
---
Meet Sophie and send us your Feedback.
Non-binding booking request for the Escort Lady
Fees
2 hrs.
private time
€ 500
3 hrs.
private time
€ 650
4 hrs.
incl. lunch or dinner
without dinner
€ 700
€ 750
5 hrs.
incl. lunch or dinner
€ 800
6 hrs.
incl.lunch or dinner
€ 900
Every additional hour
incl.lunch or dinner
€ 100
12 hrs.
incl. dinner and breakfast
€ 1300
24 hrs.
incl. meals
€ 2200
48 hrs.
incl. meals
€ 3500
Every additional day
€ 1500
Travel expenses
| | |
| --- | --- |
| Place of residence | € 0 |
| Journey up to 50 km | € 50 |
| Journey up to 100 km | € 100 |
| Journey more than 150 km within Germany | € 100 + railway – flight ticket |
| Journey within Europe | € 250 + railway – flight ticket |
| Journey worldwide | € 350 + railway – flight ticket |
Minimum booking period
| | |
| --- | --- |
| Homebase of Escort Lady | 2 hours |
| Journey up to 50 km | 3 hours |
| Journey up to 100 km within Germany | 4 hours |